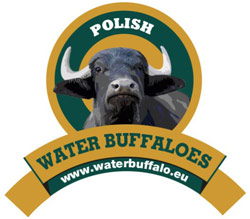 Sale of live animals
We are constantly selling animals from our herd.
Mini herd
Prices from 12000 PLN.
Mini herds are often used in wet areas such as swamp, moor, wet meadows along lakes, ponds and rivers for landscape conservation. The animals need constant access to water for bathing and for trinking. Also a covered shelter for rain and wind protection is required. The mini herd consists of:
2 suckler cows (pregnant) approx. 3 - 9 years,
1 bull about 1,5 - 3 years,
1 cow (usually pregnant) 1 - 1,5 years.
Mother cows
, 3 - 9 years old.
Prices from 3500 PLN.
Bulls, 1,5 - 3 years old.
Prices from 3000 PLN.
Calves, from 6 months.
Prices from 1200 PLN.
More information: www.waterbuffalo.eu